| | |
| --- | --- |
| Date: | April 12th, 2017 |
| Author: | Press Secretary - -mindthegap- |
| Concerning: | Habbo Happenings: New Cow Pets! |
---
Today is the day, Habbos. The new cow pet boxes released today contain one of 20 cow breeds - which one you get when yo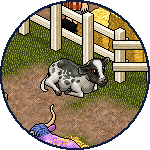 u open is 100% random, although some are rarer than others. We've listed all the breeds below for you:
Belted Galloway
Ayrshire
Holstein
Australian Bazadais
Guernsey
Highland
Normande
Eastern Finncattle
American Milking Devon
British White
Jersey
Dexter
Hereford
Hungarian Grey
Crossbred
Texas Longhorn
Exotic Longhorn
???
???
???
There is also going to be an opportunity to bag yourself an uber-special, GOLD cow pet between April 26 and 30.
---
What is Habbo Happenings? Habbo Happenings is the revived news title with stories relating to anything and everything going on in the Habbo White House that does not necessarily involve the Habbo White House, you're more than welcome to leave feedback via site messaging the OOC.